Ansök till Utnarms ledningsgrupp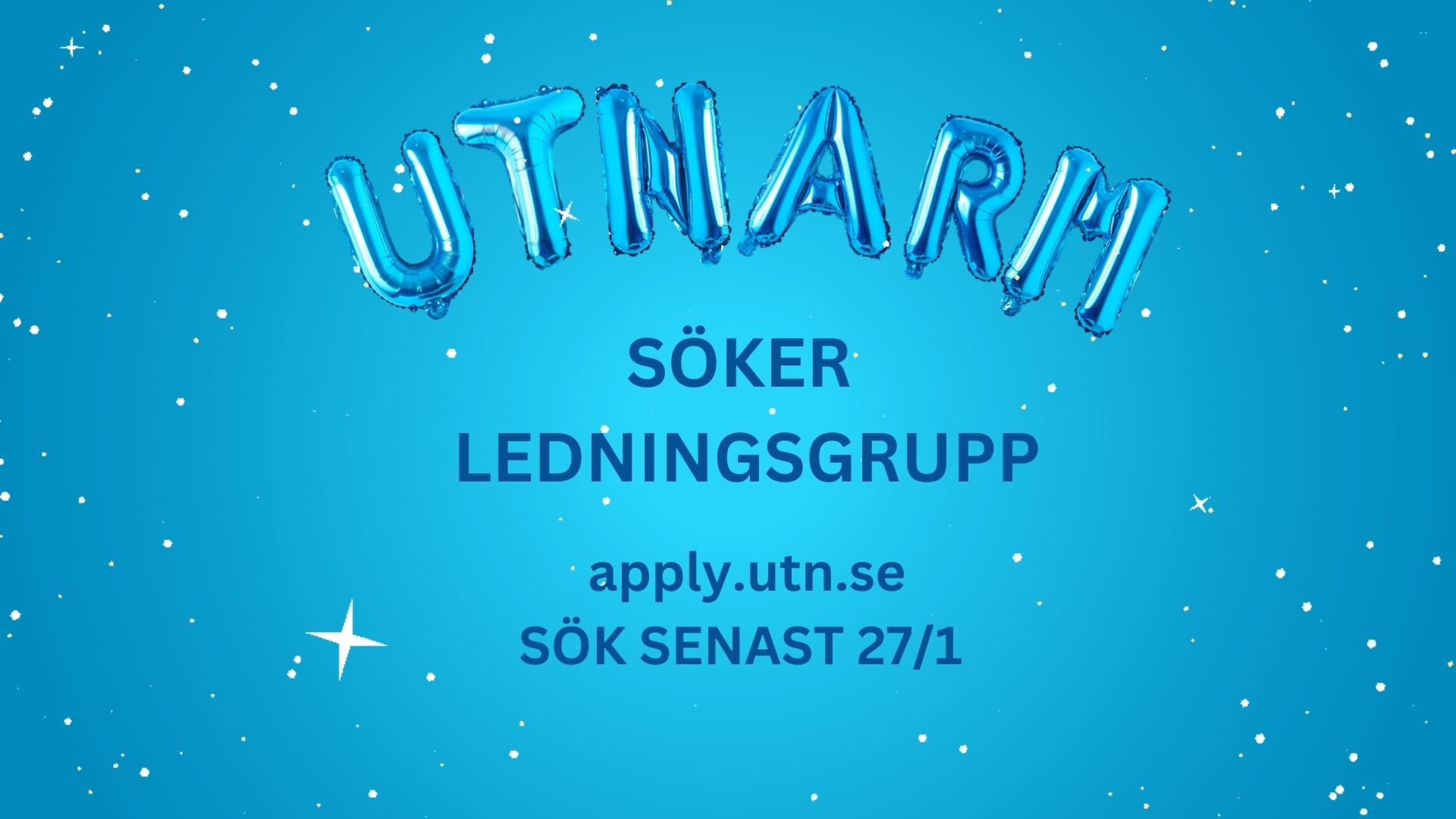 English below
ÄR DET DIG VI LETAR EFTER? Utnarm letar just nu efter en ledningsgrupp! Vill du utveckla din roll som en ledare? Vill du jobba med marknadsföring, företagskontakt, hållbarhetsarbete, organisation? Då borde du överväga att söka!
Poster som går att söka är:
GRUPPLEDARE FÖR MARKNADSFÖRINGSGRUPPEN
GRUPPLEDARE FÖR NÄRINGSLIVSGRUPPEN
GRUPPLEDARE FÖR MÄSSGRUPPEN
SAMMANKALLANDE FÖR UTNARM
Posterna går just nu att söka på https://apply.utn.se/ Ni hittar mer information på UTN:s sociala medier.
Inga tidigare erfarenheter behövs, men ett öppet sinne och ett intresse för att leda en grupp är självklart viktigt!
Frågor? Tveka inte att höra av dig till Utnarm på Facebook eller Instagram, eller maila projectmanager@utnarm.se
---
DO YOU WANT TO HAVE AN INCREDIBLY FUN AND EDUCATIONAL YEAR? Then this is something for you! Now you have the chance to develop your role as a leader, run a project from scratch and get one step closer towards work life. You get this and much more if you apply to the Management Group in Utnarm 2023. Utnarm is UTN's job fair, which takes place in November every year. In addition to the fair, Utnarm consists of two event weeks full of inspiring events, followed by the career fair itself. Everything ends with a gasque that you will never forget.
The positions available are:
GROUP LEADER OF THE MARKETING GROUP
GROUP LEADER OF THE CORPORATE RELATIONS GROUP
GROUP LEADER OF THE FAIR GROUP
CONVENOR OF UTNARM
As group leader you are part of Utnarm's management team and have a group of about five people whom you will support and lead in their work. As the Convenor for Utnarm you will be part of the management team and will for example be responsible for Utnarm's sustainability, committee meetings, internal communication and team buildings. You will also act as the project manager's right hand.
It is a requirement to be able to speak and read Swedish in the management team. However, we encourage you to apply to the committee instead. We look forward to your applications later on!
You can find more info in the positions descriptions: https://drive.google.com/.../1T7LR2Q7Gg-7mO…
Link to the applications: https://apply.utn.se/
If you have any questions, feel free to email projectmanager@utnarm.se or write to Utnarm on Facebook.