TDB-mottagningen söker kommittéer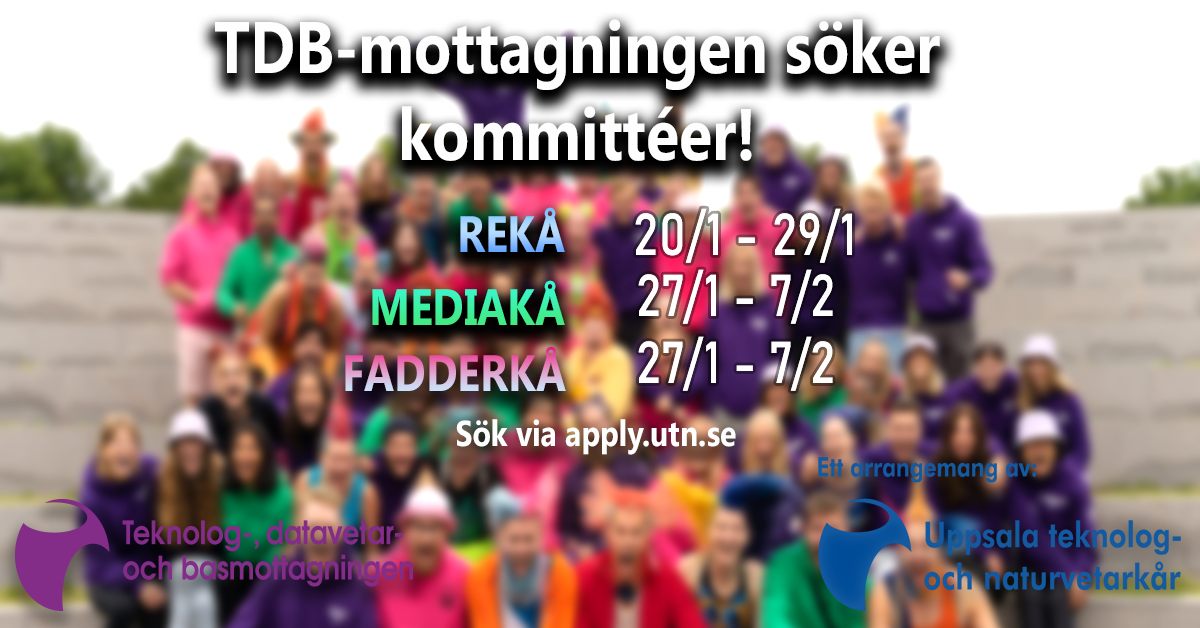 English below
Uppsala teknolog- och naturvetarkårs Teknolog- Datarvetar och Basmottagning söker nu massor med underbara kommittémedlemmar! Ta chansen att som medlem i Fadderkå, Mediakå eller Rekå välkomna nya studenter samtidigt som du får vänner och upplevelser för livet. TDB-mottagningen 2023 är ett evenemang som under två veckor ska ge över 1300 nya teknolog-, datavetar- och basårsstudenter en fantastisk start på sin studietid. Just nu är vi endast sju personer som jobbar med mottagningen, och för att välkomna alla dessa studenter behöver vi bli många fler! Ledningsgruppen för TDB-mottagningen 2023 söker därför kommittéer och vi vill ha just DIG!
Sök för de olika kommittéerna pågår: Rekå: 20/1-3/2 Mediakå: 27/1-7/2 Fadderkå: 27/1-7/2
Nedan kan du se vilka poster som söks i respektive kommitté. Länk till postbeskrivningar kommer dyka upp här i eventet när söket öppnar. Nytt för i år är att vi söker en ny Rekåit till Aktgruppen med namnet Trix, kanske är detta du?
Rekå
Binär
Bläck
Bus (2 st)
Fi
Fix
Trix
Kalaspinglan
Koll
Krams
Krims
Köx
Skum
Spons (2 st)
Sting
[tæ:sk]
Mediakå
Action
Effekten
Konkav
Konvex
Memory
Pitch
Play
Saxen
Fadderkå
---
ENGLISH
The Engineering - Computer Science and Foundation Year Student Reception, an event by Uppsala Union of Engineering and Science students, needs committee members! Take the chance to become a member of the Buddy Committee (Fadderkå), Media Committee (Mediakå) or Recentior Committee (Rekå) and welcome the new students while also making friends and memories for life. The Engineering and Computer Science Student Reception 2023 is an event that during two weeks will give the new engineering, computer science and foundation year programme students a fantastic start to their time as students. At the moment we are only seven people working with the reception but to welcome that many students we need to be more! The Engineering and Computer Science Student Reception 2023 is looking for committee members and we want you! New for this year is the position of Trix in the Aktgroup, perhaps this is you?
The applications for the different committees are open: Rekå: 20/1-3/2 Mediakå: 27/1-7/2 Fadderkå: 27/1-7/2
Rekå
Binär
Bläck
Bus
Fi
Fix
Trix
Kalaspinglan
Koll
Krams
Krims
Köx
Skum
Spons (2 pcs)
Sting
[tæ:sk] — Mediakå —
Action
Effekten
Konkav
Konvex
Memory
Pitch
Play
Saxen
Fadderkå